An Evening with Judge Sterne
Date:
Tuesday, March 22, 2016
Location:
University Club
Speaker:
Judge Colleen K. Sterne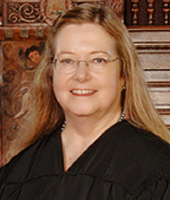 Judge Colleen K. Sterne was born in Santa Monica, California and raised in southern California. She attended the University of California, Santa Barbara, graduating in 1980 with a B.A. in English. She graduated from Santa Barbara College of Law in 1988. She also holds a graduate certificate in dispute resolution from Pepperdine University.
Judge Sterne was appointed to the Superior Court by Governor Arnold Schwarzenegger in January, 2010. Selected in 2002 by the Superior Court judges to be the Family Law Commissioner for Santa Barbara County, Judge Sterne served as a bench officer in that capacity until 2010. During her tenure as a Commissioner, she instructed judicial ethics courses for her fellow Commissioners. Before taking the bench she engaged in a civil litigation practice, ultimately limited to Mediation and dispute resolution.
Judge Sterne is a 2006 recipient of the Judge John T. Rickard Judicial Service Award, and was named Attorney of the Year by Santa Barbara Women Lawyers in 2010. She is a past President and board member of Santa Barbara Women Lawyers. She has participated in the Santa Barbara County Bar Association, California Women Lawyers and the William L. Gordon Chapter of the American Inns of Court.
DATE: Tuesday, March 22, 2016
PLACE: University Club
TIME:
4:30 pm Social Gathering

5:00 pm Program (Note : Program will begin promptly)

6:00 pm Dinner
Please RSVP by Wednesday, March 16, 2016
Hosted guests are welcome at $65/$68.
Dinner reservations made and not canceled by 5:00 p.m on Friday, March 18th will be charged to the reserving member
Salad:
Spring Salad
with Heart of Palms, Tomatoes, Sweet Onions, Baby Beets
Entrée-Choice of:
Oven Roasted Lamb Cutlets
with Braised Fennel and Garlic Mashed, Natural Jus
New Zealand White Fish Filet
Lemon Beurre Blanc, Rice Pilaf, Asparagus
Penne Pasta with Artichoke Hearts, Sundried Tomatoes,
Basil, Wild Mushrooms and Parmesan Cheese