Financial Potpourri
Date:
Tuesday, March 27, 2018
Location:
SB University Club
Speaker:
Brad Stark, MS, CFP
Financial Potpourri
Brad Stark, MS, CFP will present a broad discussion of financial hurdles that face retirees as well as the affluent and the planning techniques/discussion ideas on how to address them.
Retirement distribution planning – IRA / Roth best practices.
How much is enough – wealthy people are often wealthy because they save or have fears of running out of money but this causes issues when gifting or letting go, how do you free them to do so in their minds?
Why aren't more people doing asset protection for their children?
Concentrated stock / wealth and the elderly – How to reduce risk without taxation, how an exchange fund may help.
Divorce – commonly overlook admin areas - changing beneficiaries and updating estate plans / picking the right assets during marital dissolution.
Insurance, do clients need long term care? What to do with old life insurance contracts?
Time to have Alternate Contact Authorizations for all clients?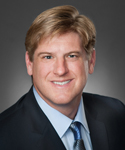 Brad Stark, a graduate of UCSB with a degree in Business Economics is the Co-Founder of Santa Barbara based Mission Wealth Management, LLC. Mission is an independent financial planning and investment management firm with a footprint that has grown beyond Santa Barbara and now has locations throughout California as well as presence in Colorado, Arizona, Washington and Oregon. The firm oversees and directly manages in excess of $1.7billion in client assets and is one of a handful of firms in the country where both Charles Schwab and Fidelity refer their clients. Mission has been recognized annually by the Financial Times as one of the "Top 300 Wealth Firms" in the country.
Brad is a Certified Financial Planning and has a Master's Degree in financial planning. He was on the faculty from 2008-12 as an adjunct professor of finance for the MVS School of Business and Economics at CSU Channel Islands. Brad sits on a number of non-profit boards / councils, mostly focused in the area of education and is the current Chair of the Adizes Institute.