Same Sex, No Sex, Divorce California Style-What Matters and What Doesn't Matter
Date:
Tuesday, September 22, 2015
Location:
University Club of Santa Barbara
Speaker:
John Rydell, Marisa Beuoy and Paul Roberts,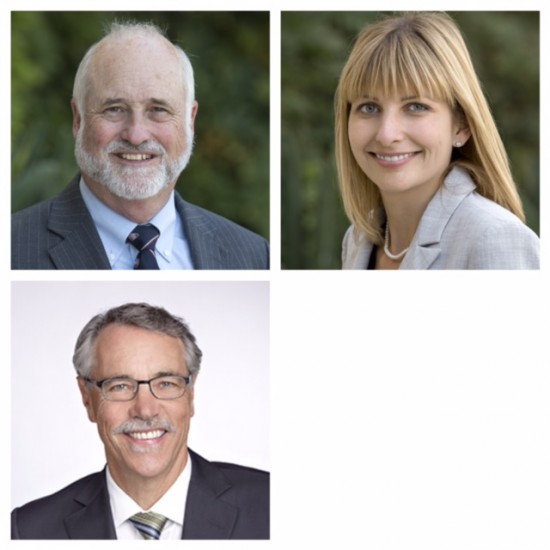 Join local family law attorneys as they discuss the basics of marital dissolution, including:
How the case is started (Are there grounds?Same sex marriages? No sex marriages? Irreconcilable differences or incurable insanity – always a temptation)

Restraining orders

The role of professionals (accountants, estate planning lawyers, insurance brokers, financial planners, etc.)

Insurance issues during divorce process

Liability of third party professionals
John R. Rydell, III
John grew up in Santa Barbara and attended the local public schools. He returned to Santa Barbara after college, the Navy, and law school and joined Griffith & Thornburgh in 1974. He was elected to two terms on the Hope School Board, and has served in leadership positions for several local non-profit organizations. As an avid golfer, he served as the President of the Southern California Golf Association and has enjoyed travelling to the magnificent courses of England, Ireland, Scotland, Canada, and Australia. John and his wife Helen have been blessed with three wonderful children and nine remarkable grandchildren.
For more informaiton: http://www.g-tlaw.com/rydell/
Marisa K Beuoy
Originally from the Los Angeles area, where she grew up riding horses, Marisa likes to spend time outdoors and achieved a personal goal by completing her first Sprint Triathalon in 2012. An avid photographer, Marisa enjoys taking pictures of her favorite subjects –her two young children. Marisa participates in fundraising for the Santa Barbara Cottage Children's Hospital and has served as a guest speaker at UCSB's Global and International Studies Program. Marisa enjoys working with people to solve often complicated family law issues. She also represents clients on many different types of school law, business and civil litigation matters.
For more information: http://www.g-tlaw.com/marisa-beuoy/
Paul A. Roberts
Paul A. Roberts has been in practice in Santa Barbara since 1977 and has acted as Chief Executive Officer of Hollister & Brace since October 2012. He has tried cases in Ventura, Santa Barbara, Santa Maria and San Luis Obispo including more than twenty jury trials and represented litigants in mediation and arbitration in that time. He has established a practice in Santa Barbara County at Hollister & Brace that includes handling complex marital dissolution proceedings which consist of litigating all issues including business valuations, support and custody. Mr. Roberts has been lead counsel in defending an international businessman against the allegation that he operated a multinational enterprise designed to avoid legal obligations regarding custody, support and property management and many other similar cases involving international issues. Mr. Roberts has been appointed by the Court to serve as a Judge Pro Tem and has been appointed by the Court to serve as a Special Master to manage and decide complex business and real property issues. He is also hired to serve as a private judge to resolve complex matters in dissolutions. Within his practice there is an emphasis to resolve contested cases by settlement or mediation wherever possible. Mr. Roberts has attended and completed the Family Law and Mediation programs at the Strauss Institute of Dispute Resolution at Pepperdine University and is employed by local attorneys to serve as a private mediator to assist in bringing their cases to a mediated conclusion. Mr. Roberts has been certified to act as Minor's Counsel pursuant to California Family Code.
For more information: http://www.hbsb.com/paul-a-roberts/
Related Document(s):